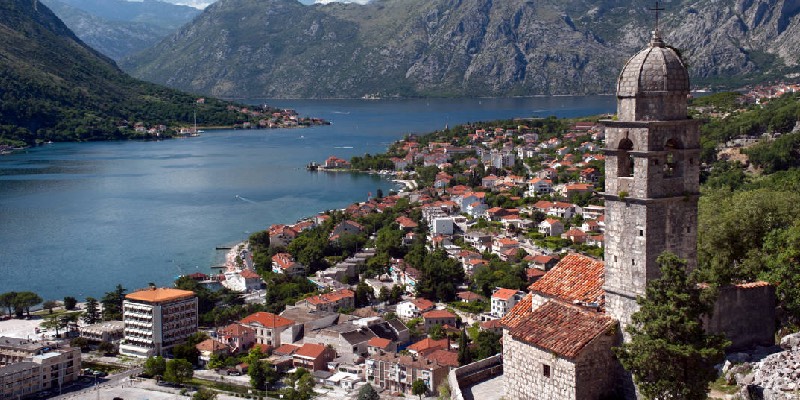 Discover our ports: Kotor
Overview
In the last step of our journey between the infrastructures of PPORTS project, we arrive in Kotor. The Port of Kotor is oriented to servicing passenger ships and therefore is recognized as a passenger (cruise) port. Adriatic Sea region is recognized by the increased cruise traffic with 5 million cruise passenger movements (Risposte Turismo, 2017). Port of Kotor represents a third most frequent cruise port of Adriatic, after Venice and Dubrovnik. 
It is worth to mention, due to suitable weather and nautical conditions inside the Kotor bay appropriate for cruise ships, this area is very attractive for cruise ships visits and safe ships moving is provided during the whole year. 
Inside the Port of Kotor, there is a main berth with customs and border control with a total length of more than 180 m and the available draft is 8 m, while there is also its extension of 200 m with the available draft of 6.5 m. This port has a river berth capable of servicing cruise ships up to 125 m length and 4.5 m draft. Because some ships have draft limitations, they have an option to anchor and use the tendering services. 
The first and second anchorages are located approx. 0.3 and 1 nautical miles from the main berth, respectively. When passengers need to disembark from the ship, lifeboat tenders are used to provide a link from cruise ships to the shore.
The total length of the apron area in the Port of Kotor is 665 m (see Figure 2). Generally, the apron area is divided into five berths (http://portofkotor.com/O-luci/polozaj.html):
· Berth I: total length of 150 m. Total number of bollards is 11.
· Berth II: total length of 100 m. 
· Berth III: total length of 250 m. 
· River berth I: total length of 80 m. Total number of bollards is 5.
· River berth II: total length of 70 m. Total number of bollards is 5.
The apron area is disposing with 61 rubber fenders used for berthing/unberthing of cruise ships. Along the quay, there are water and electricity connection for the ships. The pilotage service is mandatory for ships over 1000 GT (http://portofkotor.com/O-luci/polozaj.html). 
From the geographical point of view, the port is located in the inner Kotor Bay and represents one of the four bays in the Boka Kotorska Bay. Waterway distance between Port of Kotor and other important ports in the neighborhood is given in Table 5 (http://portofkotor.com/O-luci/polozaj.html).