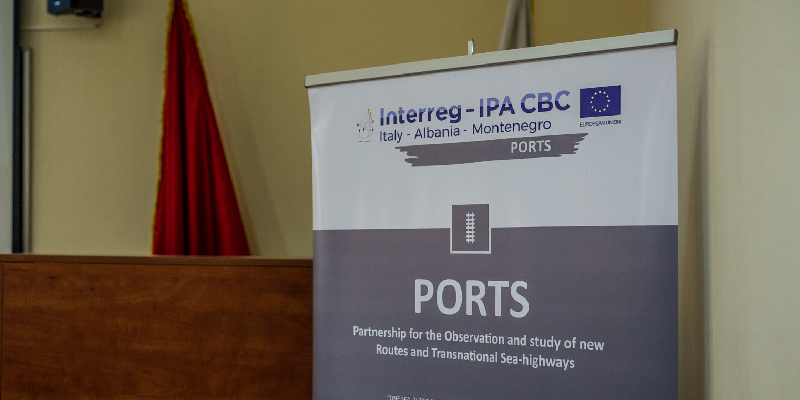 Final workshop organized by the University of Montenegro
Overview
The final workshop on the project entitled Partnership for the Observation and study of new Routes and Transnational Sea-highways– PORTS,Interreg-IPA CBC Italy-Albania-Montenegro 2014-2020 program, which gathered over 70 participants, was held through the Zoom application, on Monday, November 30, 2020. The students of the Faculty of Maritime Studies Kotor, University of Montenegro and businesses sector from Montenegro attended the event. The workshop was covered by the media of the daily newspaper "Dan". Today's lectures were divided into several sections according to the project work packages where the participants heard about the Interreg CBC program.
"This program aims at strengthening cross-border cooperation and competitiveness of small and medium enterprises; smart management of natural and cultural heritage for the exploitation of cross-border sustainable tourism and territorial attractiveness of the program area; environmental protection; risk management and carbon reduction strategies and increasing cross-border accessibility; promotion of sustainable transport services, and improvement of public infrastructure", said the Dean of the Faculty of Maritime Studies Kotor, Prof. Dr. Špiro Ivošević.
Port of Kotor AD acts as the associate partner from Montenegro whose team members (Doc. Dr. Pavle Popović and Maja Danilović) participated in investigation the possibility of creating a passenger liner service with the ports of Taranto and Durres.
Senior researcher on the project, MSc Maja Škurić, pointed out the importance of the Motorways of the Seaconcept, which offers the possibility of forming sustainable maritime connections over short distances to improve passenger and cargo transport. As Škurić pointed out, in this way, the policy of the European Union is promoted that favors environmentally friendly modes of transport and various transport solutions.
"The Faculty of Maritime Studies Kotor continues to achieve success when the international position of our university on the European project map is related. It actively includes all relevant stakeholders and students who have the opportunity to further inform and improve their knowledge of current EU policies and strategic documents which aim to promote the Adriatic-Ionian region", concluded the young researcher on the project, MSc Radmila Gagić.
The realization of the PORTS project started on March 15, 2018, and ends on December 14, 2020.